Ranks
Black0ut1 edited this page on 2020-03-11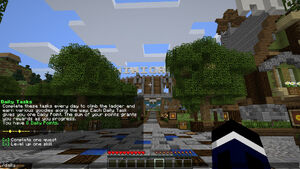 Cavetale has a ladder of ranks which players may climb in order to gain access to a number of perks and rewards.
Guest
Guest is the rank you have when you first join the server. You won't be able to do much until you get promoted. Ranking up to Friendly is automated; all you have to do is type /rules and read our rules carefully. One of the rules will tell you the command to become Friendly instantly.
Friendly
Friendly is the default rank after managing the simple test as a Guest. You will be allowed to perform most of the basic actions from vanilla Minecraft and our server, including building, fighting mobs and talking in chat.
Requirement
Agree with our rules by typing /rules. Find further instructions by reading them carefully.
Perks
Build on the server (after leaving spawn, of course).
Talk in chat.
Start auctions.
Set homes.
Make a claim.
Use party chat via /party and /p.
Claim the starter kit.
Member
Member is the rank that is awarded to players after they have established themselves as regular members of the community.
Requirement
To be promoted to this rank, build a house and make a ticket so that a staff member can review it.  This can be done via the /ticket command.
Perks