Capture the Flag
Black0ut1 edited this page on 2023-08-21
C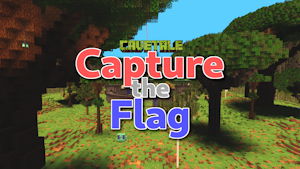 apture the Flag is a PvP-based game centered around bringing the other team's banner back to your base.
Gameplay
Capture the Flag is a simple game that plays out just as it sounds like it would.
Two teams are randomly formed with half of all players on either the Red or Blue side. Their primary objective is to Capture the Flag of the opposing team and return it to their own team's base. Note: your team must be in possession of your own flag in order to capture.
Monsters spawn around the map and drop emeralds when killed, in addition to their regular loot. Emeralds can be traded with the villagers at each base to acquire weapons, tools, armor, food, potions, and blocks. All players begin the game with three emeralds already in their inventory.
Picking up, capturing, or returning a flag will notify all players through chat and on-screen text. The flag, whether it is being carried by a player or sitting at a base or on the ground, will glow and rotate to make itself easily visible. Running through the enemy flag will grab it, and running through your own flag will return it.
If a player manages to carry the opposing flag into their own team's indestructible capture zone while their team is in possession of their own flag, a point will be awarded and all players will be teleported back to their base to regroup and reset.
Once the time is up, the team with the most captures wins the game and their players are awarded bonus points to their overall event score. Killing other players also grants points. If both teams have an equal number of captures, the game ends in a draw.