Skills
Black0ut1 edited this page on 2022-07-13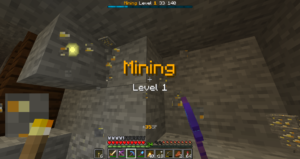 The Skills system allows you to collect skill points in several different categories.  Certain activities will also grant you Talent Points, which can be used to unlock special abilities.
Commands
/sk – Skills menu.
/sk talent (/tal) – Unlock Talents.
/sk hi – Display the highscore.
Skills
There are three skills with corresponding Talents: Mining, Combat, and Archery.  They are progressed through the following actions:
Mining: Mining ores.
Combat: Killing hostile mobs with melee attacks.
Archery: Killing hostile mobs with a bow or crossbow.
Talent Points
A Talent Point is earned when a new skill level is reached.  Talent Points are tied to their relevant skill, so leveling up the Mining skill will unlock Talent Points that can be used to unlock Mining talents, and so on.  Once you have earned your first Talent Point, you may begin unlocking perks on the talent tree via /sk talent.