Skills
Black0ut1 edited this page on 2018-10-17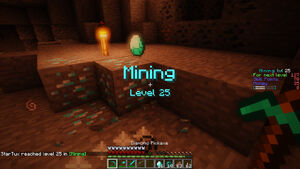 The Skills system allows you to collect skill points in several different categories, which in turn will earn you special abilities that are not normally available in the vanilla game.
Commands
/skill [Skill] – Displays skill information, statistics, and current progress. Example: /sk brewing
/hi [Skill] – Display the highscore.  Typing the same command again will remove display window on right. Example: /hi brawling
Skills
There are four skills within the game, and each skill comes with its own activities to collect Skill Points. Collecting skill points will increase your level in that particular skill, and the higher your level the more perks you will be able to unlock.
Brawling
Description: Fight hostile monsters in close combat, ideally with your sword.
Taming
Description: Tame wild animals.
Smithing
Description: Refine items on an anvil.
Ranching
Description: Feed your farm animals to make them breed and increase their numbers.